Cemara Beach in Wangi-Wangi District, Southeast Sulawesi Province
---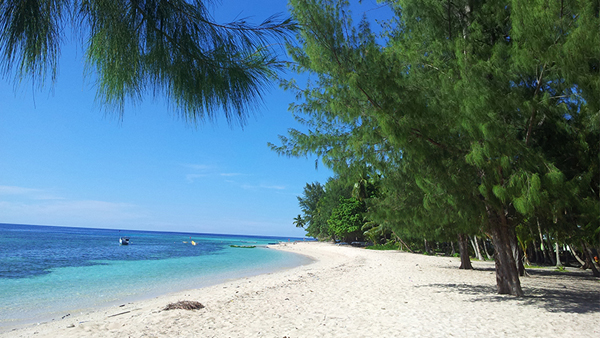 A shimmering beach is located in Wangi-Wangi District and the name is Cemara. The name has the meaning of a type of tree, which is called "Pine". Due to its allure, the beach gets more visitors over time and most of them are the locals. Located in Waha Village, Cemara remains as one of the most beautiful beaches in Southeast Sulawesi Province. Not to mention many families take advantage of the beach for bonding, as it features lots of attractions. Even the kids can get in the water with parents' supervision.
The Nuance
The sky is blue and the sea is sparkling. This combination is definitely jaw-dropping. Moreover, the sand appears beautifully with its calm color and soft texture. During holidays, you may see many tourists playing around on it. In the back, some trees (especially pines) grow abundantly and create a refreshing atmosphere in Cemara Beach. It is a good idea to sit and relax under these trees and enjoy some snacks or drink fresh coconut water. With all these things, the beach is considered a perfect tourist spot for both the locals and outsiders.
Exploring Cemara Beach
It doesn't matter at what time you visit Cemara Beach, but most of the tourists come to the location in the morning. Their purpose is to witness the sunrise and enjoy the fresh air. Not to mention the beach remains in its low tide condition. Due to such comfortable nuance, beach walking is considered a good idea. As if, the comfort sand and the gusty wind may replenish all your stresses in an instant. At noon, you can even avoid the heat of the sun by sitting under the trees.
The next thing to do is visiting a nearby village, as Cemara Beach is situated near to Waha Settlement. Such village features traditional houses and local boats, which are quite attractive. Somehow, the activity of the villagers is also interesting, as they may do daily routines like fishing and processing foods. For those who can speak Indonesian Language, it is better to approach those people and learn their culture directly. It is even possible to join the dinner with them!
What's next? Cemara Beach is also known for its astonishing nautical beauty. It even becomes one of the best beaches in Wakatobi Regency. Not to mention there is a local service for those who want to try snorkeling and diving. Some spots of the beach are good for such activities, after all. Also, there is a nearby tourist spot called Molii Sahatu. It is a fountain coming with fresh water and charming nature. Make sure to drop by in this location!
Nearby Attractions
Wakatobi National Park
Kontamale Cave
Mola Village
Molii Sahatu Fountain
How to Get There
As mentioned before, Cemara Beach is located in Waha Village. Exactly on Jalan Raya Waha, Sombu of Wangi-Wangi. It may take much time, especially those who come from Kendari. The trip costs approximately 22 hours and the distance is 383 km. Not to mention there are several checkpoints, including Muna Island and Buton Island. If you want a faster trip, you can take an airplane from Haluoleo Airport to Matahora Airport. Even though it is a faster option, it may cost much money.
Where to Stay
Wakatobi Potuno Resort
Wisata Beach Hotel
Dila Villa

Latest News
Traveling to Wakatobi, Southeast Sulawesi, is not complete without trying diving or snorkeling tours. The reason is, Wakatobi is known for its white sand and clear sea. One of the famous spots in Wakatobi for diving is Sombu Beach. This white sandy beach with a row of coral reefs is always hunted by tourists. Sombu Beach is located in Wangi-Wangi District. The distance is about 30 minutes from Matahora Airport, or 20 minutes from the city center. At first glance, this coastline does not look so long. Even so, the…
---
Hoga Island is one of the beautiful islands belongs to Wakatobi Islands region, Southeast Sulawesi or commonly referred to as Wakatobi Islands National Park. Has an area of ??about 1,390,000 ha which is a combination of several other islands, Hoga Island is located east of Kaledupa Island. Besides Kaledupa Island, there are also a number of other small islands nearby such as Tomia Island, Wangi-Wangi Island, Binongko Island and Kapota Island. Access to get to Hoga Island can be started from Kendari or Bau-Bau first, then just cross to Hoga…
---
Bombana Regency in Southeast Sulawesi Province is currently improving its tourism potential in order to compete with other tourist destinations in the archipelago. The regency covering ??2,845.36 km2 area with Rumbia as capital city and has natural resources of mine which is being sought after by investors. Bombana also has rich cultural, nautical beauty, natural panorama and historical heritage that still neatly stored. Registered as a tourism village, Tangkeno receives district government support to maintain its natural landscape, including the springs that flow across the island. Tangkeno has long been…
---
Moramo Waterfall is located in Tanjung Peropa Nature Reserve Region. Precisely located in the Sumber Sari Village, Moramo Subdistrict, Konawe South Regency, South-East Sulawesi, Indonesia. Moramo Waterfall is an amazing nature gift for Konawe Selatan Regency, South-East Sulawesi, which has seven stages of waterfall where the place of water flowed freely. According to the story that developed in the community, this place was believed as the fairies bathed place that descended from heaven. Moramo Waterfall is the beautiful stratified waterfall (cascade) with height around 100 meters. From this height, the…
---