Sombano Lake in Kaledupa Island, Wakatobi District
---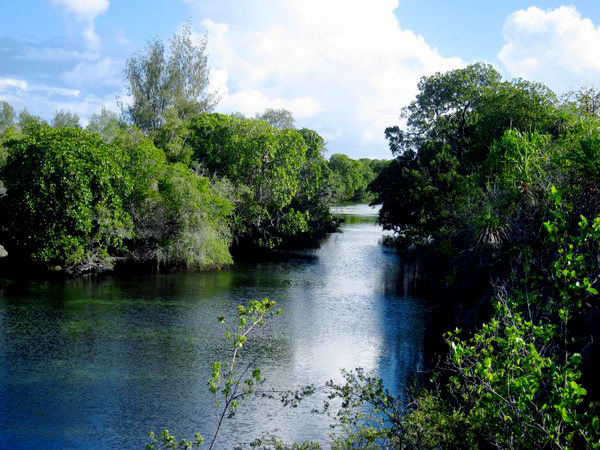 People have reasons why they enjoy nature tourism. One of them is to see unspoiled nature, which is considered refreshing. The question is where they should go, as many options of nature attractions are available. In Wakatobi District, Kaledupa Island becomes a recommended choice. It is the home of a serene lake called Sombano. As the name suggests, the lake belongs to Sombano Village and becomes its significant tourist spot. The lake was formed naturally due to the presence of land cavities. As the result sea water entered the land and combined into such lake.
The Nuance
Due to its clarity, the lake appears stunning and peaceful. It even features some small huts, on which tourists can rest and relax. That means visitors can enjoy nature views while relaxing on such comfortable facilities. In terms of nuance, the lake offers a peaceful atmosphere. Thanks to the presence of shady trees. They surround such beautiful lake, providing a comfortable and shady feel to the location. In terms of size, Sombano Lake is indeed big and the water is comfy. No wonder, most of the visitors would go swimming in it.
Exploring Sombano Lake
One of the significant motivations in visiting Sombano Lake is the opportunity for an adventure. Here is the fact. Visitors should take much effort to reach the location, as they need to pass through steep and bad routes. Approximately, it takes 8 km from Sombano Village to reach the lake. Have no worries. This becomes a chance for trekking! Along the way to the lake, tourists can enjoy beautiful views of a nearby beach and shrubs. The trip takes about 20 minutes, but it is worth the effort. No one would get disappointed with it.
Once they reach the lake, they can either continue the journey or take a rest first in the hut. The crystal clear water is quite mesmerizing! Not to mention Sombano Lake holds unique creatures like red shrimps. Their color is striking and it combines well with green water plants on the lake. With such attractions, it is likely tourists can't deny the urge to swim. The water is rejuvenating, after all. Plus, those small shrimps would be the perfect companion during swimming. One thing, the locals may tell tourists regarding the sacredness of the lake. In fact, not many people dare to swim in it!
Nearby Attractions
Alam Derawa Cave
Togo Fort
Ollo Fort
The Old Mosque
How to Get There
The first checkpoint is Wangi-Wangi Island, where Matahora Airport resides. From there, travelers can take a speedboat and head to Kaledupa. The voyage takes 1-2 hours, depending on the weather and traffic. In fact, it may take longer if tourists use a long boat instead of a speedboat.
Where to Stay
Wakatobi Resort
Locals' Houses

Latest News
Traveling to Wakatobi, Southeast Sulawesi, is not complete without trying diving or snorkeling tours. The reason is, Wakatobi is known for its white sand and clear sea. One of the famous spots in Wakatobi for diving is Sombu Beach. This white sandy beach with a row of coral reefs is always hunted by tourists. Sombu Beach is located in Wangi-Wangi District. The distance is about 30 minutes from Matahora Airport, or 20 minutes from the city center. At first glance, this coastline does not look so long. Even so, the…
---
Hoga Island is one of the beautiful islands belongs to Wakatobi Islands region, Southeast Sulawesi or commonly referred to as Wakatobi Islands National Park. Has an area of ??about 1,390,000 ha which is a combination of several other islands, Hoga Island is located east of Kaledupa Island. Besides Kaledupa Island, there are also a number of other small islands nearby such as Tomia Island, Wangi-Wangi Island, Binongko Island and Kapota Island. Access to get to Hoga Island can be started from Kendari or Bau-Bau first, then just cross to Hoga…
---
Bombana Regency in Southeast Sulawesi Province is currently improving its tourism potential in order to compete with other tourist destinations in the archipelago. The regency covering ??2,845.36 km2 area with Rumbia as capital city and has natural resources of mine which is being sought after by investors. Bombana also has rich cultural, nautical beauty, natural panorama and historical heritage that still neatly stored. Registered as a tourism village, Tangkeno receives district government support to maintain its natural landscape, including the springs that flow across the island. Tangkeno has long been…
---
Moramo Waterfall is located in Tanjung Peropa Nature Reserve Region. Precisely located in the Sumber Sari Village, Moramo Subdistrict, Konawe South Regency, South-East Sulawesi, Indonesia. Moramo Waterfall is an amazing nature gift for Konawe Selatan Regency, South-East Sulawesi, which has seven stages of waterfall where the place of water flowed freely. According to the story that developed in the community, this place was believed as the fairies bathed place that descended from heaven. Moramo Waterfall is the beautiful stratified waterfall (cascade) with height around 100 meters. From this height, the…
---