A Small Adventure in Tindoi Protected Forest, Wangi-Wangi Island
---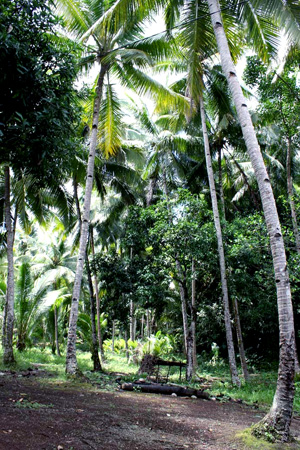 A vacation in a forest seems challenging, doesn't it? In this case, tourists need to find a good place for an adventure. Thanks to Wakatobi District. It offers a wonderful tourism spot like Tindoi Protected Forest, located in Wangi-Wangi Island. To be exact, the forest belongs to several villages, which are Tindoi, East Tindoi, Waginopo, and Posalu Village. Among those rural areas, Tindoi Village becomes the most popular entrance, though. Tourists can either come with a tour guide or alone, but they must have some preparations beforehand. At least, they must learn information about the forest.
The Nuance
The fact is Tindoi Forest is protected by the government. Not to mention the locals consider it sacred! Despite the status, it becomes a recommended vacation destination for those visiting Wangi-Wangi Island. It is situated 800 meters above sea level and becomes the home of lush vegetation and tall trees. Near to the forest, more than 30 households live peacefully. That means visitors have the chance to visit the village and learn some culture there. Mostly, the villagers work as a farmer and they take advantage of Polio Fountain for irrigation. When it comes to creatures, many animals live there like butterflies, black drongo, local birds, etc.
Exploring Tindoi Protected Forest
The first activity is definitely trekking, as Tindoi Forest has a challenging landscape. Plus, it is surrounded by tall trees and lush vegetation. That means tourists won't get tired when exploring it. Moreover, many types of flora and fauna live there, which become perfect objects for photography. Once the trekking is done, tourists should reach Polio Fountain, where a beautiful nature pond resides. Tourists are even possible to take a bath in it! The reason is the locals manage it as both a source for irrigation and nature bath, after all.
The next adventure is to visit nearby villages. These include Posalu, Waginopo, and Tindoi. These rural areas share similar features and culture, actually. The people are also friendly and they often offer foods to visitors. It is even possible to stay in their house for either resting or sleeping. Some locals also offer a tour guide service to tourists with a cheap price! It only takes a good bargain skill and some Indonesian Language knowledge to get such benefit. As an alternative, tourists can come with experienced travelers or a tour agent service.
As mentioned before, travelers should have prepared everything prior to exploring the forest. For instance, it is about the information. That means they need to gather info regarding routes, facilities, safety tips, etc. Next, it is related to the equipment. Some basic items are needed, including a carrier bag, bottled water, snacks, and GPS. It is also important to wear comfortable footwear, as the route is rough.
Nearby Attractions
Polio Fountain
Waginopo Peak
Tee Kuea Nature Bath
Tofengka Stone
Tee Kosapi Cave
Mola Village
How to Get There
Travelers can simply visit Wangi-Wangi Island by airplane and the destination is Matahora Airport. Next, they can take either an ojek or a car to Wanci City. The distance is about 8 km, actually. Next, it is time to head to Tindoi Village. From there, they need to walk for 2 km to reach the forest.
Where to Stay

Latest News
Traveling to Wakatobi, Southeast Sulawesi, is not complete without trying diving or snorkeling tours. The reason is, Wakatobi is known for its white sand and clear sea. One of the famous spots in Wakatobi for diving is Sombu Beach. This white sandy beach with a row of coral reefs is always hunted by tourists. Sombu Beach is located in Wangi-Wangi District. The distance is about 30 minutes from Matahora Airport, or 20 minutes from the city center. At first glance, this coastline does not look so long. Even so, the…
---
Hoga Island is one of the beautiful islands belongs to Wakatobi Islands region, Southeast Sulawesi or commonly referred to as Wakatobi Islands National Park. Has an area of ??about 1,390,000 ha which is a combination of several other islands, Hoga Island is located east of Kaledupa Island. Besides Kaledupa Island, there are also a number of other small islands nearby such as Tomia Island, Wangi-Wangi Island, Binongko Island and Kapota Island. Access to get to Hoga Island can be started from Kendari or Bau-Bau first, then just cross to Hoga…
---
Bombana Regency in Southeast Sulawesi Province is currently improving its tourism potential in order to compete with other tourist destinations in the archipelago. The regency covering ??2,845.36 km2 area with Rumbia as capital city and has natural resources of mine which is being sought after by investors. Bombana also has rich cultural, nautical beauty, natural panorama and historical heritage that still neatly stored. Registered as a tourism village, Tangkeno receives district government support to maintain its natural landscape, including the springs that flow across the island. Tangkeno has long been…
---
Moramo Waterfall is located in Tanjung Peropa Nature Reserve Region. Precisely located in the Sumber Sari Village, Moramo Subdistrict, Konawe South Regency, South-East Sulawesi, Indonesia. Moramo Waterfall is an amazing nature gift for Konawe Selatan Regency, South-East Sulawesi, which has seven stages of waterfall where the place of water flowed freely. According to the story that developed in the community, this place was believed as the fairies bathed place that descended from heaven. Moramo Waterfall is the beautiful stratified waterfall (cascade) with height around 100 meters. From this height, the…
---