Adoring Wakatobi Wave Festival in Wangi-Wangi Island, Wakatobi
---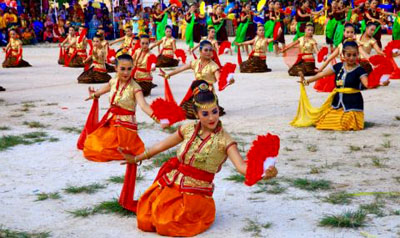 Everyone should visit Wakatobi District one day, as it offers mesmerizing nature tourist spots. Apart from natural attractions, travelers recognize Wakatobi as the best destination to learn the culture and enjoy beautiful festivals. As for the reference, there is Wakatobi Wave! Such local tradition features lots of entertainment and attractions. It is even included in a national event calendar and conducted each year. The inspiration was the diversity of culture. That means the festival presents numerous local shows for the audience to enjoy. Not to mention it helps in promoting local tourism to travelers.
The Nuance
It is a no brainer. The nuance is definitely festive! Lots of local people come to the location to enjoy the event. Most of the time, Wakatobi Wave is conducted in Wangi-Wangi Island. Both locals and tourists are allowed to enjoy it. In fact, they are allowed to participate in the festival. That means they can dance and do other attractions there. Several tents are also available, but only important guests can use them. Have no worries. Tourists can choose shady spots, which are under nearby trees. This way, they can enjoy the whole event in a comfortable manner.
Enjoying Wakatobi Wave Festival
In general, Wakatobi Wave presents numerous marine cultural attractions, originated from all islands in Wakatobi. These include Binongko, Tomia, Kaledupa, Wanci, and Wangi-Wangi. The most popular events are a culinary party, cultural contests, fishing, dances, and much more! Apart from watching, tourists can even join those programs. The thing is they must talk to the management several days before. Here is another important consideration. Due to many attractions, the event takes more than one day. Therefore, tourists need to find a good hotel beforehand. It is likely they are going to spend a few days in Wakatobi.
During Wakatobi Wave Festival, lots of people would come to the location. These include kids, teenagers, adults, and seniors. All of them feel happy and enthusiastic regarding the event. Thus, tourists would feel the same and they have the chance to make lots of new friends. The performers wear unique costumes, as well. They are definitely attractive! When it comes to dances, most of them perform colossal dances and Karia'a attractions. The first day is all about dances and traditional attractions, after all.
In the second day, people can enjoy some unique contests like boat decorating and racing. Not only visitors can be the audience, they can also join those contests. At night, the management would prepare an open stage and hold fun entertainment like dances and songs. That would be the best time to relieve stresses by dancing wholeheartedly. In the next day (the closure), there is an event called "Panjat Pinang". It is when the contestants climb a slippery pole to win many gifts. What a fun festival it is!
Nearby Attractions
Tee Kuea Nature Bath
Tofengka Stone
Tee Kosapi Cave
Mola Village
How to Get There
The best location to enjoy Wakatobi Wave Festival is in Wangi-Wangi Island. Travelers only need to visit the island by airplane and the destination is Matahora Airport. Once they reach the island, they can arrange a schedule with a tour agent regarding the festival. That's it.
Where to Stay

Latest News
Traveling to Wakatobi, Southeast Sulawesi, is not complete without trying diving or snorkeling tours. The reason is, Wakatobi is known for its white sand and clear sea. One of the famous spots in Wakatobi for diving is Sombu Beach. This white sandy beach with a row of coral reefs is always hunted by tourists. Sombu Beach is located in Wangi-Wangi District. The distance is about 30 minutes from Matahora Airport, or 20 minutes from the city center. At first glance, this coastline does not look so long. Even so, the…
---
Hoga Island is one of the beautiful islands belongs to Wakatobi Islands region, Southeast Sulawesi or commonly referred to as Wakatobi Islands National Park. Has an area of ??about 1,390,000 ha which is a combination of several other islands, Hoga Island is located east of Kaledupa Island. Besides Kaledupa Island, there are also a number of other small islands nearby such as Tomia Island, Wangi-Wangi Island, Binongko Island and Kapota Island. Access to get to Hoga Island can be started from Kendari or Bau-Bau first, then just cross to Hoga…
---
Bombana Regency in Southeast Sulawesi Province is currently improving its tourism potential in order to compete with other tourist destinations in the archipelago. The regency covering ??2,845.36 km2 area with Rumbia as capital city and has natural resources of mine which is being sought after by investors. Bombana also has rich cultural, nautical beauty, natural panorama and historical heritage that still neatly stored. Registered as a tourism village, Tangkeno receives district government support to maintain its natural landscape, including the springs that flow across the island. Tangkeno has long been…
---
Moramo Waterfall is located in Tanjung Peropa Nature Reserve Region. Precisely located in the Sumber Sari Village, Moramo Subdistrict, Konawe South Regency, South-East Sulawesi, Indonesia. Moramo Waterfall is an amazing nature gift for Konawe Selatan Regency, South-East Sulawesi, which has seven stages of waterfall where the place of water flowed freely. According to the story that developed in the community, this place was believed as the fairies bathed place that descended from heaven. Moramo Waterfall is the beautiful stratified waterfall (cascade) with height around 100 meters. From this height, the…
---