Sajo Moane Dance of Tomia Island, Wakatobi District
---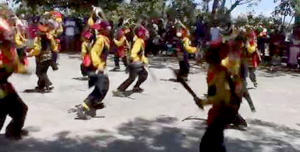 Mostly, travelers recognize Wakatobi District for its marine tourism. The fact is the region offers more than such attraction. For example, it is famous for its culture and arts. Many traditional dances are available to enjoy, as well. As for the reference, there Sajo Moane Dance. It is the signature entertainment of Tomia Island, actually. The dance is also called Eja-Eja, which is performed by male kids. Not only it is entertaining, but the dance is considered unique. It is because the dancers are those who study in elementary school. The movements of those kids are funny, too!
About the Dance
Usually, the dancers consist of 20 male kids. These local kids wear similar attires and accessories like a small sword, traditional hat, and local fabrics. The color of the shirt is yellow, while the pants are black. They move cohesively, following the rhythm of accompaniment and the drums beats. As for tourists or audience, they are allowed to enjoy the dance near to the arena. It is indeed quite entertaining, as spectators can see the expression of the kids closely. Those kids dance energetically, as they are possessed by ancient spirits.
Enjoying Sajo Moane Dance
Tourists can enjoy many things from Sajo Moane Dance like the history and meaning. When it comes to history, the dance was related to South Sulawesi nomads. These people were stranded during a voyage to Australia. Their ship was wrecked in Lentea Island, which is near to Tomia. They survived and wandered in Timu Village, which is located in East Tomia. With their influence, the dance became a local tradition and it was performed as a symbol of luck before a long journey to other lands. Here is the fact. Tomia was an infertile region, so the people were likely to look for foods and natural resources from other regions.
Becoming a heroic dance of Tomia People, Sajo Moane Dance is considered both entertaining and valuable. Some people even call it as a war dance, as the performers carry a cleaver – the symbol of bravery and war. According to some sources, Tomia people were into wars. It's because they need to survive during hunting and an adventure. Without bravery and durability, they weren't likely to succeed. Due to that reason, the dance symbolizes their gallant characteristic. No wonder, the dancers should perform in a dashing manner despite their young age.
Not all male kids are chosen to perform Sajo Moane Dance. As mentioned earlier, the dancers should be able to show a dashing performance. Not to mention it involves screaming and sword fighting. Apart from powerful movements, those kids might show different expressions during the show. Overall, this is going to be entertaining. Tourists are also allowed to take pictures of the dancers.
Nearby Attractions
Lia Lapadele Cave
Kahyangan Hill
Onemobaa Beach
Hutente Beach
How to Get There
The best location to enjoy the dance is definitely Tomia Island. In order to reach the island, tourists need to take a plane to Matahora Airport. Next, they can take a speedboat to reach Tomia. The thing is they need to know the schedule of the performance first before heading to such destination.
Where to Stay

Latest News
Traveling to Wakatobi, Southeast Sulawesi, is not complete without trying diving or snorkeling tours. The reason is, Wakatobi is known for its white sand and clear sea. One of the famous spots in Wakatobi for diving is Sombu Beach. This white sandy beach with a row of coral reefs is always hunted by tourists. Sombu Beach is located in Wangi-Wangi District. The distance is about 30 minutes from Matahora Airport, or 20 minutes from the city center. At first glance, this coastline does not look so long. Even so, the…
---
Hoga Island is one of the beautiful islands belongs to Wakatobi Islands region, Southeast Sulawesi or commonly referred to as Wakatobi Islands National Park. Has an area of ??about 1,390,000 ha which is a combination of several other islands, Hoga Island is located east of Kaledupa Island. Besides Kaledupa Island, there are also a number of other small islands nearby such as Tomia Island, Wangi-Wangi Island, Binongko Island and Kapota Island. Access to get to Hoga Island can be started from Kendari or Bau-Bau first, then just cross to Hoga…
---
Bombana Regency in Southeast Sulawesi Province is currently improving its tourism potential in order to compete with other tourist destinations in the archipelago. The regency covering ??2,845.36 km2 area with Rumbia as capital city and has natural resources of mine which is being sought after by investors. Bombana also has rich cultural, nautical beauty, natural panorama and historical heritage that still neatly stored. Registered as a tourism village, Tangkeno receives district government support to maintain its natural landscape, including the springs that flow across the island. Tangkeno has long been…
---
Moramo Waterfall is located in Tanjung Peropa Nature Reserve Region. Precisely located in the Sumber Sari Village, Moramo Subdistrict, Konawe South Regency, South-East Sulawesi, Indonesia. Moramo Waterfall is an amazing nature gift for Konawe Selatan Regency, South-East Sulawesi, which has seven stages of waterfall where the place of water flowed freely. According to the story that developed in the community, this place was believed as the fairies bathed place that descended from heaven. Moramo Waterfall is the beautiful stratified waterfall (cascade) with height around 100 meters. From this height, the…
---